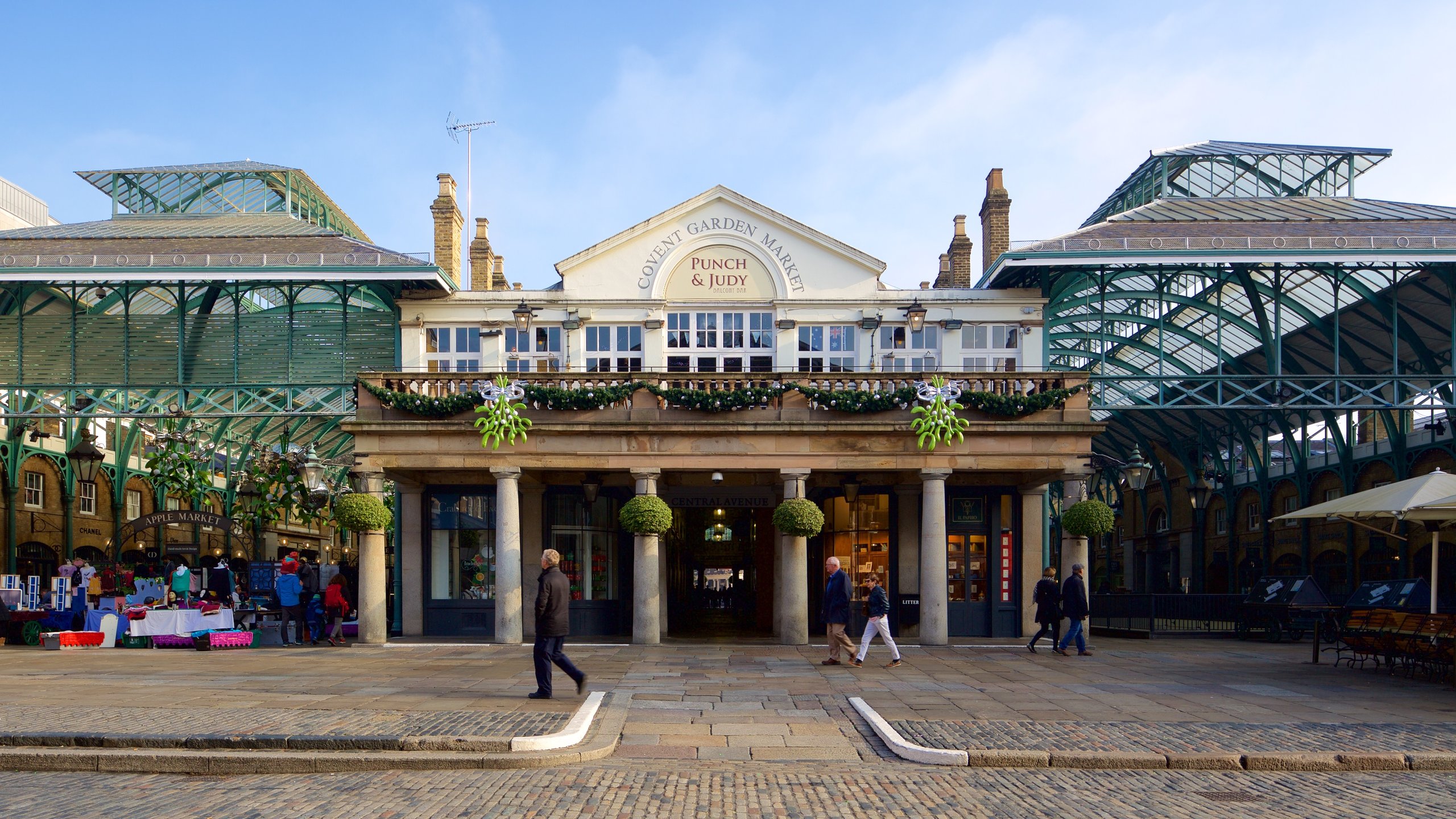 1. The Piazza and Central Market
Covent Garden Piazza was formerly home to London's fruit and vegetable market. The Victorian building is now one of London's most popular tourist destinations, full of interesting shops selling gifts, curios, clothes and antiques. Where Covent Garden Market takes place there is also an open-air cobbled area where miming and juggling acts can often be found. The market stalls sell a variety of quality goods such as craft items, pictures and handmade clothing so it's a great place to find souvenirs.

2. London Transport Museum
The London Transport Museum explores the powerful link between transport and the growth of modern London, its culture and society since 1800. There's a fantastic collection of historic vehicles including trams, taxis and the iconic red London buses, as well as photos, signs and posters. There are also temporary exhibitions and events throughout the year. You can take a break in The Upper Deck restaurant and bar and shop for posters, toys and accessories in the shop.

3. Neal's Yard
Amongst the shopping mayhem of Covent Garden is this small and tranquil square, formerly home to a dairy. The square is lined with stores selling alternative products with several open air cafes making this a good place to chill out. "Alternative" style shops predominate, selling natural beauty products, beads, vegetarian food, accessories and clothes. The famous Neal's Yard Dairy is just around the corner, selling artisan cheeses from around the British Isles.

4. Seven Dials
Seven Dials was developed in the 1690's by Thomas Neale, who wanted to attract wealthy residents and shop owners. Ironically, the area soon deteriorated into one of London's most notorious slums, with a pub on every corner that faced the sundial. Today Seven Dials enjoys a reputation as one of London's trendiest districts. It's a hub of shops that seem to be constantly changing style and ownership, competing to keep up with or set the latest fashion agenda.

5. The Photographers Gallery
Tucked away on a small side street near Leicester Square, the Photographers' Gallery is Britain's leading centre for contemporary photography. With a year-round programme of fantastic free exhibitions and events, the core collection of classic and contemporary photographs is boosted by a more eclectic selection of work by emerging photographers. Facilities include gift and book shop, cafe and toilets. You can even choose from a selection of cameras for sale.

6. The Royal Opera House
Founded in 1732, the Royal Opera House is home to the Royal Ballet and the Royal Opera Company. It's a vibrant establishment that has hosted contemporary performers such as Bjork, and classical interpretations of rock duo The White Stripes, as well as seasonal programmes of classical opera and ballet, including favourites such as The Nutcracker and Wagner's Ring Cycle.

7. The Lamb and Flag Pub
The Lamb and Flag is a small wooden fronted pub that used to be known as the Bucket of Blood because of the bare-fist fights that were held here. At over 300 years, it's the oldest pub in Covent Garden, and possibly one of the oldest in London if claims of a Tudor past are true. Well known for being next to a narrow covered alleyway, the Lamb and Flag has a simple olde-worlde cosy atmosphere, created by the low beams, wood panelling and bare pine floors.

8. The Mousetrap at St Martin's Theatre
The Mousetrap, by Agatha Christie, is the longest running show of any kind in the history of British Theatre and has been thrilling audiences from around the world for as long as Queen Elizabeth II has been on the throne. It's a fantastic whodunnit play, in the classic setting of a 1950's country house cut off by snow. Expect period costume, great acting and clipped British accents. During the Mousetrap's phenomenal run there have been no fewer than 336 actors and actresses.

9. St Paul's, the Actor's Church
St Paul's is affectionately known as "The Actors' Church" because of its long association with the theatre community. There is an attractive churchyard where people can rest and find some peace and quiet in what can be a stressful part of the city. The artist J.M.W. Turner and dramatist W. S. Gilbert (of Gilbert & Sullivan fame), were both baptised at St Paul's. As well as being an important focal point of the community, St Paul's Covent Garden hosts series of events and concerts.

10. Stanford's Map Shop
Stanfords is the UK's leading specialist retailer of maps, travel books and other travel accessories, having been established in 1853 by Edward Stanford. It has been an essential first port of call for adventure and armchair travellers alike for more than a century. The roll call of customers past and present includes such famous names as David Livingstone, Scott of the Antarctic, Ernest Shackleton, Florence Nightingale, Ranulph Fiennes, Bill Bryson, Michael Palin, and even Sherlock Holmes.