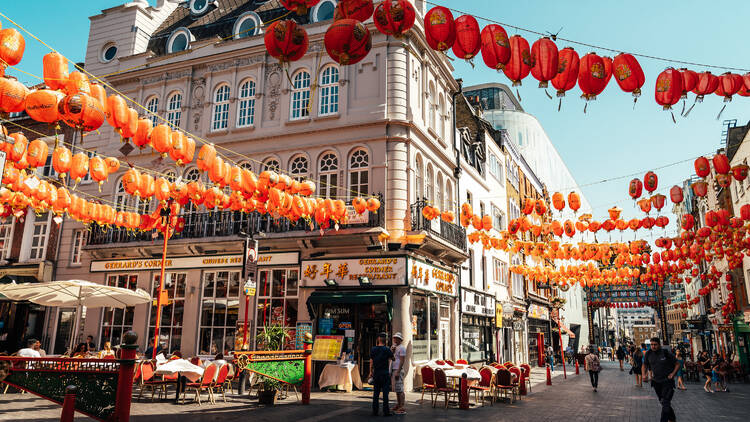 1. The French House
One time haunt of artists and poets such as Francis Bacon and Dylan Thomas, the French House has retained a bohemian ambiance. Guinness is served by the half pint, and excellent food is served on the first floor. Although you get the impression that the current crowd are more involved in multi-media than painting or poetry, the French House remains idiosyncratic and unique – much appreciated by many in the face of increasingly homogenised competition.

2. The Prince of Wales Cinema
The Prince of Wales cinema, just off Leicester Square shows an interesting and eclectic mix of slightly older non-mainstream films and B-movies by cult directors such as Russ Meyer. They also have viewings of musicals such as Sing-Along Rocky Horror Picture Show and Sing-Along a Sound of Music, audience participation is encouraged and fancy dress popular.

3. Chinatown Restaurants
Walk through London's Chinatown past restaurant windows full of splayed roast ducks and jellyfish hanging from metal hooks, and it probably won't be long before you're tempted by the exotic sights and smells to try the food for yourself. Like any group of restaurants, there's the good, the bad and the ugly. A general rule of thumb is to look for the one's where most of the diners are Chinese.

4. Bar Italia
Bar Italia is a much loved Soho institution and has been an all night Soho favourite since 1923. It serves great Italian coffee, cakes and sanwiches and is absolutely packed whenever there's a televised Italian football match. The blue plaque on the building celebrates the fact that John Logie Baird first demonstrated television here in 1926. You can purchase the stylish coffee cups and saucers as a memento of your visit.

5. Ronnie Scott's Jazz Club
Ronnie Scott's is Soho and London's legendary jazz venue. Opening in 1959, the plan was to provide a place where British jazz musicians could jam. Ronnie quickly developed a reputation of bringing the best British jazz musicians to the club and would soon persuade the American federation of musicians to lift the ban on American performers in the UK, paving the way for many legendary performances. Today the club still attracts top jazz, soul and blues talent from both sides of the Atlantic.

6. Riflemaker Contemporary Art
This is the second Riflemaker gallery to open in London and, like the original in nearby Beak Street, is housed in an historic building. The walled garden where you'll find the gallery's cafe also has an interesting past – it was from here that Charles Dickens took his inspiration for 'A Tale of Two Cities.' Exhibitions take place within three rooms of the first floor; the Council Room, originally the drawing room of the house, is particularly magnificent – look for the gods' heads in the corners, representing the four seasons.

7. Soho Ho Comedy Club
I went shopping for a pair of camouflage trousers, but couldn't find a pair. I had a friend who drowned in a bowl of muesli – he got pulled in by a strong current. I went to the doctors the other day. He said 'say Aaah." I said 'why?" he said, 'my cat's just died." Find real comedy at Soho Ho on Frith Street, Soho's longest running comedy club, every Saturday night. Bar and club open from 7.30 pm, comedy starts at 8.30.

8. Vinyl Junkies Record Shop
Aaah, the smell of vinyl! Vinyl Junkies is a top destination for artists, DJs, producers and music lovers from across the world. They specialise in cutting edge house, disco, funk, tech, new jazz beat, off beat, abstract, vocals, soul, compilations and rarities.

9. Foyles Bookshop
Foyle's is arguably London's most famous bookshop offers a huge range of fiction and non fiction. There's even a sheet music department. Browsing through the bookshops in Soho on a Saturday afternoon is part of the scene – Foyles is a good place to start.

10. Go shopping for Chinese food
If you want authentic Chinese ingredients then a Soho supermarket is the place to shop. You can get everything you might need to put together your own Chinese meal here, from fresh fruit and vegetables like lychees and pak choi, to sauces, woks, steamers and a few frozen items that you might not be familiar with!