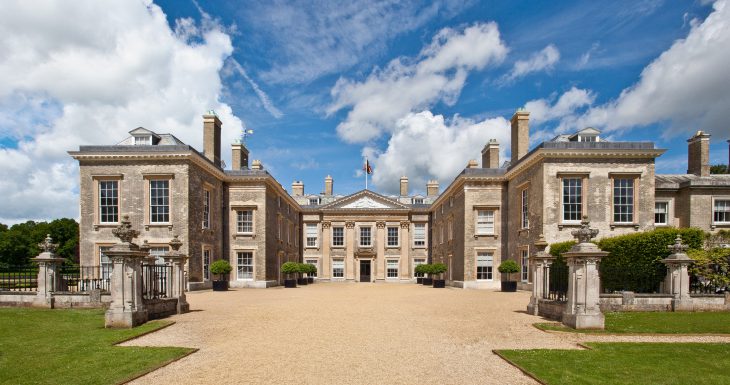 1. Althorp
Althorp has been home of the Spencer Family for over 500 years, and was where its most famous resident, Diana, Princess of Wales, grew up. Today, visitors can commemorate her life by visiting the Diana Exhibition in the re-developed stable block, and explore the house which contains one of Europes finest private collections of art, furniture and ceramics. See paintings by Gainsborough, Van Dyck, and Rubens, or enjoy the deer park and take a stroll through the remodelled gardens.

2. Kelmarsh Hall and Gardens
Kelmarsh Hall is a graceful 18th century historic house, set in romantic gardens and surrounded by its own working estate. In the late 1920s, American, Nancy Trees (later Lancaster) taste for combining comfort with formality set the trend for what we recognise today as the English Country House look. Visitors can see Nancy Lancasters style most clearly in the delicate pink terracotta of the Great Hall, the exuberant Chinese wallpaper and seasonal flower arrangements on display.

3. Hinton Skydiving Centre
Adrenalin Junkie? Jump out of a plane strapped to an instructor at Hinton Skydiving Centre and get the rush of your life. Owned and operated by professional skydivers, Hinton Skydiving Centre runs a variety of skydiving experiences and courses. With Tandem Skydiving for first timers, there's no need for a course as you are strapped safely to an instructor, or try the Accelerated Freefall Course – fast track learning for those wishing to take up the sport.

4. Cottesbrooke Hall and Gardens
Reputed to be the inspiration for Jane Austen's 'Mansfield Park', Cottesbrooke Hall represents a near-perfect example of Queen Anne architecture located in a quite stunning parkland setting. The building dates from 1702 and is home to the Woolavington Collection, one of the finest collections of sporting paintings in the world. The fully restored 18th century gardens contain many fine specimen trees, and a Plant Finders Fair takes place every year in June.

5. Silverstone Race Track
On October 2nd, 1948, Silverstone's first event took place, the RAC Grand Prix. The winner was Luigi Villoresi in a Maserati, who recorded an average speed of 72 mph! Today, Silverstone is host to major events in the motorsport calendar, the most famous of which is the British Grand Prix. Others include the Renault World Series, the Silverstone Classic and the World Aerobatic Championship. You can even pay for your own Driving Experience in a single seater race car, Aston Martin or Ferrari!

6. Rockingham Forest
The Rockingham Forest is an area of some 200 square miles in North-East Northamptonshire, lying between the Rivers Welland and Nene and the towns of Stamford and Kettering. It has a rich and varied landscape, with farmland, open pasture, pockets of woodland and villages built from local stone. The forest offers plenty of routes for walking, cycling and riding, and is rich in wildlife with birds of prey including owls, buzzards and kites and other animals such as deer and foxes.

7. Northampton Museum and Art Gallery
Northampton Museum and Art Gallery celebrates the town's industrial heritage with a fabulous collection of shoes. Along with silk slippers, clogs and high heeled nineteenth century court shoes, there's one of the four boots worn by an elephant during the British Expedition of 1959, which retraced Hannibal's route over the Alps. There's celebrity footwear too, including the giant Doc Martins Elton John wore in Tommy, and a couple of cabinets showing just how long high heels have been in fashion.

8. Salcey Forest Treetop Way
The Royal Forest of Salcey is a magnificent ancient woodland offering excellent walking and opportunities to view an amazing range of wildlife. The Tree Top Way is a wooden construction which climbs to a height of 20 metres through the forest canopy, offering fantastic views across the woodland and surrounding countryside. A play area is situated close to the Forest Cafe which serves drinks, snacks and light meals, enabling parents to keep an eye on the youngsters whilst taking it easy.

9. Oundle
Arguably Northamptonshire's prettiest town, pocket sized Oundle slopes up gently from the River Nene, its congregation of old limestone houses zeroing in on the congenial Market Place. Preserving much of its medieval layout, Oundle boasts some of the finest 17th and 18th century streetscapes in the Midlands. Above all it's the general appearance of the place and the lush water meadows near the river that are most appealing rather than any one notable feature.

10. Northamptonshire Country Parks
Northamptonshire's award winning Country Parks each have their own unique character and something to offer for everyone. All have access for everyone in mind and provide good parking, sign posted trails, picnic areas and a lot more besides. There are five main parks to visit, one of which, Irchester, includes the Jungle Parc High Ropes Adventure Course! There'a also a sixth 'linear park' – the Brampton Valley Way. This former railway line is now surrounded by beautiful scenery, and there are train rides along a short section of line.