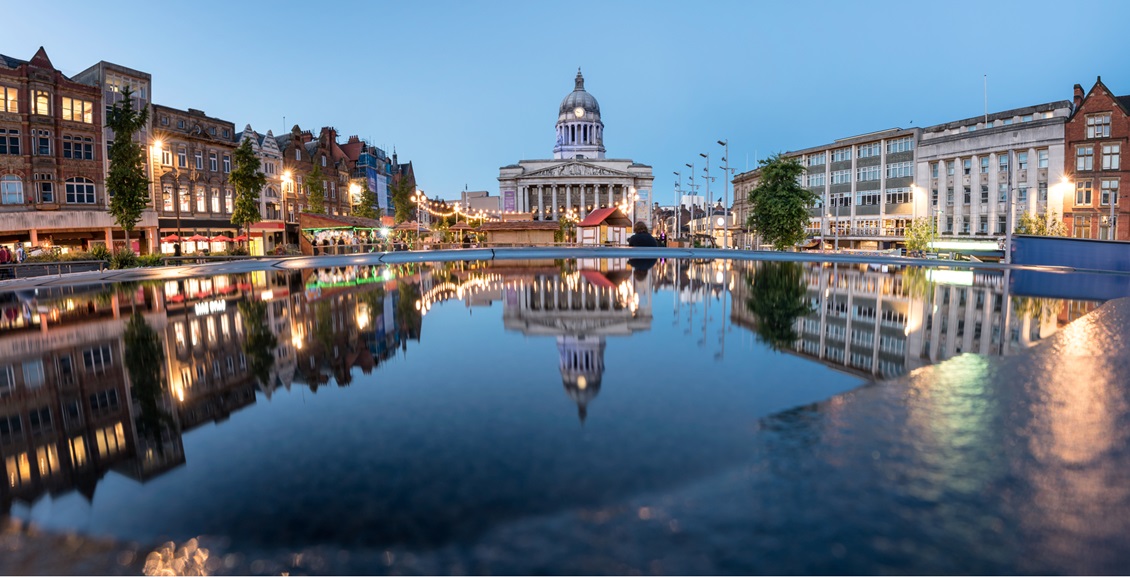 1. Sherwood Forest Country Park
Sherwood Forest has a fascinating history and is the legendary home of Robin Hood. Sherwood Forest Country Park contains some of the oldest trees in Europe, veteran oaks five centuries old and the world-famous Major Oak, still producing acorns after standing at the heart of Sherwood Forest for an estimated 800 years! Follow one of the family nature trails, browse the Visitor Centre or relax in the Forest Table Restaurant.

2. Newstead Abbey
Former home of the poet Lord Byron, Newstead Abbey's intriguing period rooms include a neo-Gothic Great Hall and the Henry VIII bedroom, fitted with carved panels and painted house screens imported from Japan. Some are much as they were when Byron lived here and in the library is a small collection of the poet's possessions. The surrounding gardens are delightful, a subtle combination of walled garden, lake, Gothic waterfalls, yew tunnels and Japanese-style rockeries.

3. The Brewhouse Yard Museum of Nottingham Life
Housed in five 17th century cottages, the Brewhouse Yard Museum of Nottingham Life depicts the social history of Nottingham over the last 300 years, with a mixture of reconstructed room and shop settings, and gallery displays. A 1920's row of shops includes a barbershop, pawn shop, ironmongers, doctors, cobblers and music shop. You can also see the unusual rock-cut caves at the rear of the buildings that were converted for use as air raid shelters during the Second World War.

4. Clumber Park
Clumber Park is an extensive and varied area of parkland and woods, and is famous for having the longest avenue of lime trees in Europe. It's an ideal place for a relaxing lakeside walk or afternoon out. There are regular events for kids such as the teddy bears picnic and spider walks. Hire a bike and ride along one of the woodland trails, or sample tastes of the past in the refurbished restaurant which uses produce from the kitchen garden. Visit Clumber Chapel – a Gothic cathedral in miniature. Other facilities include a shop and plant sales.

5. Rufford Country Park and Sculpture Garden
Rufford Abbey Country Park is one of Nottinghamshire's most popular visitor attractions. At its heart are the picturesque remains of a 12th century Cistercian monastery and a fine country house. Around them lie gardens, meadows and woodland.Visit the contemporary craft centre, take a peaceful walk around the lake, or admire modern sculpture in the Formal Gardens. Free events include a WWII re-enactment and an international ceramics fair. Facilities include a restaurant, cafe and play area.

6. Nottingham Castle and Cave Tours
Nottingham Castle is a magnificent 17th century ducal mansion built on the site of the original Medieval Castle, with spectacular views across the city. A museum and art gallery houses collections of silver, glass, armour and paintings, and explores 1500 years of Nottingham's history. Beneath the Castle are manmade caves and tunnels, some of which date back to medieval times. Descend through hundreds of years of history, and learn gruesome tales about Roger Mortimer and King David of Scotland.

7. Nottingham Galleries of Justice
Visit the award winning Galleries of Justice, located in historic Shire Hall, at the Lace Market in the heart of Nottingham City. The child friendly "Crime and Punishment" tour features a lot of interactive role-play. Alternativley, you can wander round the building indepenently to see the two superbly preserved Victorian court-rooms, an Edwardian police station, some extremely unpleasant old cells, a women's prison with bath house and a prisoners' exercise yard.

8. River Trent Boat Cruise
On weekends throughout the summer, public cruises operate from 'The Steamboat Inn' at Trent Lock, Sawley. Cruises run for approximately 30 minutes along this beautiful stretch of the River Trent. The first trip departs at approximately 12.00pm and the last trip at approximately 5.00pm. The Soar Bottom Lady is an open sided launch with roll down windows in case of bad weather, licensed to carry up to twelve passengers. There's a crew of 2, an onboard sound system and a mini bar.

9. The National Ice Centre
Nottingham has a long tradition of ice skating dating back many years, starting in 1895 with skating on the frozen River Trent. The National Ice Centre is located near the Lace Market in Nottingham city centre, and has two Olympic sized (60 x 30m) ice rinks, offering everything from public ice skating to a top class training facility for elite athletes. There are a range of ice skating sessions on offer to suit all ages and abilities, from the loudest disco to quieter sessions for beginners and families.

10. Southwell and Southwell Minster
Southwell is a sedate Nottinghamshire market town distinguished by Southwell Minster, whose twin towers are visible for miles around, and the fine Georgian Mansions facing it along Church Street. Southwell Minster was built at the beginning of the 12th century – a notable feature is the chapter house which is embellished with naturalistic foliage, some of the earliest carving of its type in England. The nearby Minster Centre contains a refectory serving light meals and excellent home made cake!