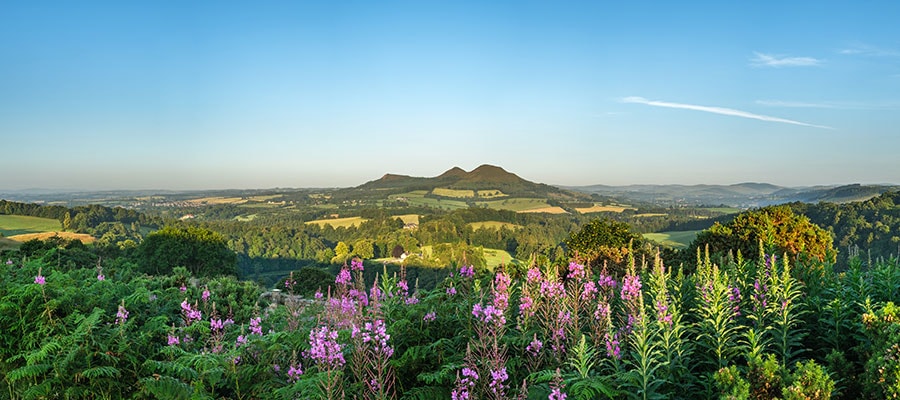 1. Traquair House
Dating back to 1107, Traquair House is the oldest continuously inhabited house in Scotland. It's main appeal is its ancient shape and structure – an organic homogeneous effect that's a welcome change from other more grandiose stately homes. The surrounding gardens contain a hedge maze, craft workshops, and the Traquair House Brewery. Dating back to 1566, it claims to be the only British brewery that still ferments totally in oak – you can sample the produce in the Brewery Shop.

2. Abbotsford
Abbotsford was home to poet and writer Sir Walter Scott, who lived here from 1812. Situated by the River Tweed, Abbotsford is designed in the Scots Baronial style, with fanciful turrets and castellations. Six rooms are open for viewing, from the wood panelled study with its writing desk made of salvage from the Spanish Armarda, to the library containing more than 9000 rare books and an extraordinary collection of memorabilia. Facilities include a tea room and gift shop.

3. Bowhill House and Country Park
Bowhill House is the Scottish Borders home of the Duke and Duchess of Buccleuch. Dating mainly from 1812 it contains an Internationally renowned art collection, including works by Gainsborough and Van Dyck, as well as superb French furniture, Meisson and Sevres porcelain, silver and tapestries. Visit the completely restored Victorian kitchen, and Bowhill Country Park – criss-crossed by scenic footpaths and cycle trails. Facilities include a tea room and gift shop.

4. Mellerstain House
Begun in 1725, Mellerstain House contains splendid Robert Adam interiors, with classical plasterwork friezes and glowing colours, providing a remarkably complete picture of a stately home as it would have been 230 years ago. An outstanding art collection includes works by Veronese and Constable, and the Edwardian gardens were planned to compliment the house with splendid views over the lawns and ornamental lake to the distant Cheviot Hills.

5. Smailholm Tower
Set high on a rocky outcrop, Smailholm is a well preserved border tower house dating from the 15th century. This was a time when clans on both sides of the border were engaged in violent feuds. Defensive features include small, easily defendable windows and entrances, walls that are six feet thick, and panoramic views from the two narrow roof-top wall walks. Here you can see a watchman's seat, positioned against the chimney stack for warmth and with a recess for a lantern.

6. Floors Castle
A mile or so northwest of the town of Kelso is Floors Castle, a vast mansion designed by architect William Adam in the 1720's. Ten rooms and the basement are open to the public, with highlights including paintings by Matisse, Augustus John and Odilon Redon. The beautiful gardens include a woodland walk, adventure playground and garden centre, and you can eat at the Terrace Cafe and Restaurant. The Castle Kitchen Produce shop sells a range of foods produced on the estate.

7. Jedburgh Abbey
Entry to Jedburgh Abbey is through the bright visitor centre at the bottom of the hill, where you can view Jedburgh's most treasured archeological find, the Jedburgh Comb, carved around 1100 from walrus ivory and decorated with a griffin and a dragon. Enter the Abbey Church itself via the west door to appreciate fully the three storey nave's perfectly proportioned parade of columns and arches, a fine example of the transition from Romanesque to Gothic design.

8. Peebles
Fast, wide, tree lined and fringed with grassy banks, the river Tweed looks at its best at the market town of Peebles. The town has a relaxed, genteel air, its wide handsome Victorian High Street bordered by houses in a medley of architectural styles. Of the various walks through the nearby hills, the five mile Sware Trail is one of the most scenic, passing Neidpath Castle, a gaunt medieval tower house perched high above the river on a rocky bluff.

9. St Abbs Head National Nature Reserve
St Abbs Head is a prominent rocky headland with hilly, cliff top grasslands, rich in flowers and butterflies, and a sheltered freshwater loch surrounded by trees and bushes. Follow waymarked trails to a coastal footpath leading to the lighthouse for a spectacular walk. Thousands of seabirds nest on the sheer cliffs, making this an excellent destination for birdwatchers. A Ranger Service operates on the site all year round, and a Nature Centre, coffee shop and toilets are located beside the car park.

10. Melrose
Melrose is a beguiling town, with narrow streets displaying a harmonious collection of styles, from pretty little cottages to high standing Victorian and Georgian facades. For most of the year its a sleepy place, but as the bithplace in 1883 of the Rugby Sevens, it swarms during the second week of April (Sevens Week) and again in early September, when it hosts the Melrose Music Festival. To the north of the town square are the pink and red tinted ruins of Melrose Abbey.