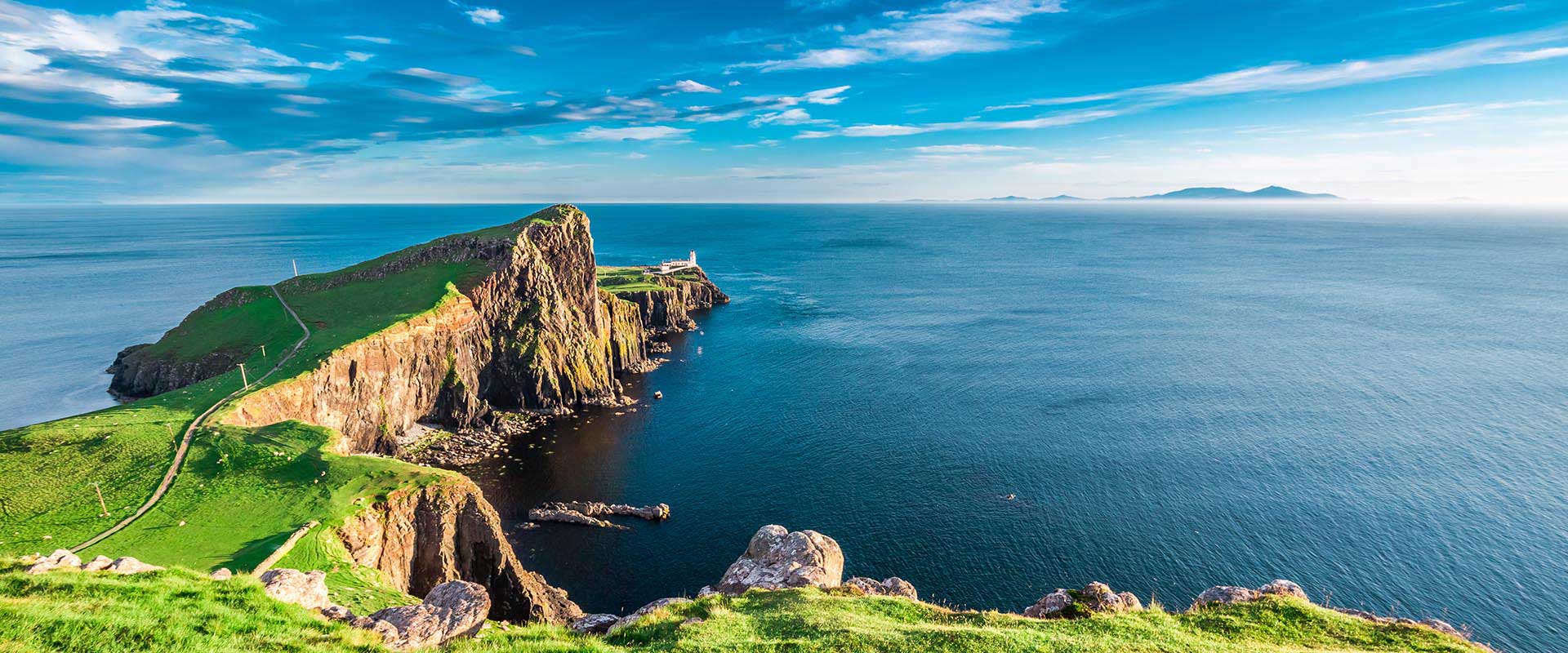 1. The Shetland Museum
The Shetland Museum and Archives covers subjects as diverse as natural and social history, maritime, folklife, textiles and industry, and is the starting point for anyone who wants to know more about the Island's Heritage and Culture. With over 3,000 artefacts on two floors, a wealth of easily accessible archival material, a temporary exhibition area, Boat Hall and Sheds, public art, auditorium, shop and Café Restaurant, it has something for everyone.

2. Lerwick and Fort Charlotte
Lerwick is home to about 6600 people – about a third of the Island's population. At the heart of the town is a sheltered harbour, busy all year round with fishing boats, yachts and commercial craft. At the northern end of nearby Commercial Street, are the walls of Fort Charlotte, a five sided Artillery Fort begun in 1665 to protect the sound of Bressay from the Dutch, who burnt it down in 1673. It was rebuilt in 1780's, and its bastions and canons can be toured today, little changed in over 220 years.

3. The Scalloway Museum
The sleepy village of Scalloway is dominated by the shell of an imposing castle. The Scalloway Museum in the main street features a poignant display on the wartime 'Shetland Bus' operation. Scalloway was a secret base of Norwegian freedom fighters during WWII, and the 'Bus' was a fishing trawler, used to transport members of the Norwegian resistance who had received training in the UK. An interesting collection of artefacts and photographs tells the story of this dangerous operation.

4. Jarlshof
Jarlshof is one of Shetland's best preserved and most complex archaeological sites. Situated at the south tip of Shetland, near Sumburgh Airport, the site became exposed in the late 19th century after a series of severe storms washed away the protective cover of sand. Jarlshof provides an insight into the way of life of the inhabitants at particularly interesting periods – the late Bronze Age, Iron Age, Pictish era, Norse era and the Middle Ages.

5. Up Helly-Aa
The abiding influence of the Vikings, who arrived in Shetland just over 1000 years ago, is celebrated on the last Tuesday of January every year, by the largest fire festival in Europe, 'Up Helly Aa'. After a torch-light procession of up to a thousand 'guizers' through the streets of Lerwick a full-size replica Viking longship is ceremonially burned. The 'guizers' and onlookers then repair to local halls for a night of revelry, dancing and partying.

6. Fair Isle
Famous for its birds, knitwear and historic shipwrecks, Fair Isle is a tiny jewel of an island, half-way between Orkney and Shetland. Fair Isle's oceanic climate brings stormy but fairly mild winters, while summer visitors can expect rapid changes in the weather. A small co-operative, Fair Isle Crafts, produces traditional and contemporary sweaters on hand-frame machines, quality-controlled and labelled with Fair Isle's own trade mark – the only genuine Fair Isle sweaters in the world.

7. Sumburgh Head
Sumburgh Head boasts Scotland's first lighthouse, a listed building built by Robert Stevenson, who accompanied Sir Walter Scott to Shetland in 1814 – a cruise that produced his novel The Pirate, set around Jarlshof and Fitful Head. The RSPB's nature reserve on Sumburgh Head has the UK's most accessible colony of Puffins, along with Guillemots, Kittiwakes and Shags. Seals often haul out on the rocks below, and there are great views to Noss in the north and Fair Isle to the south.

8. The Westside
The West Mainland or 'Westside' offers lovely beaches, hill and coastal walks, excellent bird-watching, seal-watching and otter-spotting, good sea and freshwater angling and some fascinating historical and archaeological sites. The coastline varies from dramatic cliffs to long, sea lochs, or 'voes', reaching far into a landscape of heathery hills and green crofts. A popular walk is along the coast from Walls to Sandness, taking in the grand panorama of Foula and the Atlantic.

9. Unst Unst is Britain's most northerly inhabited island and one of the most spectacular, varied and interesting in Europe. Packed into an area just 12 miles long by 5 miles wide are stupendous cliffs, jagged sea stacks, low rocky shores, sheltered inlets, golden beaches, heathery hills, freshwater lochs, peat bogs, fertile farmland – and even a unique, sub-arctic, stony desert. The Unst Heritage Centre provides a link to the past and the Unst Boat Haven is dedicated to the island's unique wooden boats.

10. The Tangwick Ha Museum
The North Mainland, stretching for more than 30 miles north from the central belt around Lerwick, is wilder than much of Shetland, with almost relentlessly bleak moorland and some rugged and dramatic coastal scenery. The Tangwick Ha Museum is located in a a restored seventeenth century mansion, which tells the often moving story of this remote corner of Shetland and its role in the dangerous trade of deep-sea fishing and whaling.