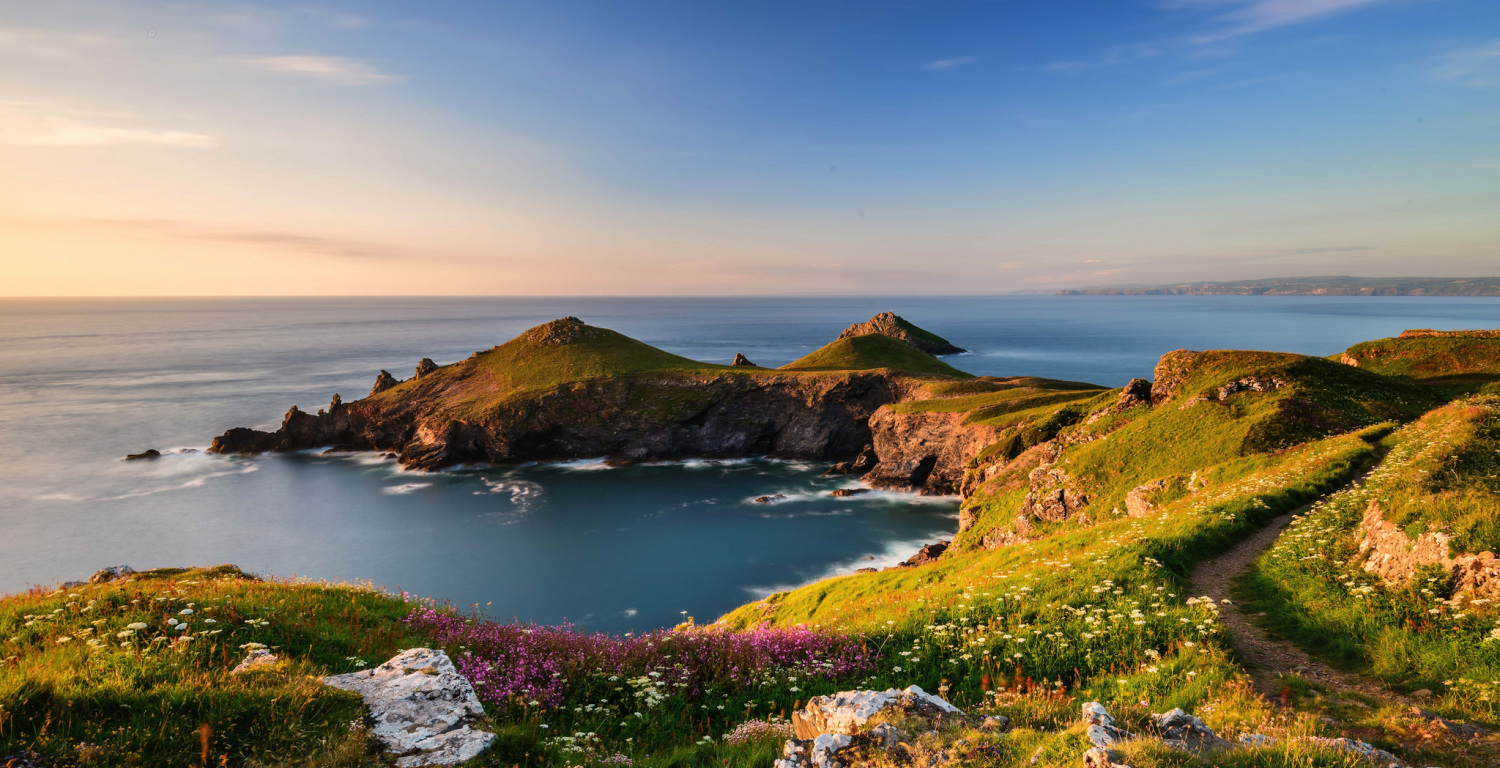 1. Porthcurno Beach and Telegraph Museum
The natural landscape of Porthcurno is striking, with its dramatic granite rock formations, white sand, turquoise sea and exotic plant life. In 1870, Porthcurno began its life as an important centre of international communications when a chain of telegraph cables linking Britain with India was completed. The Telegraph Museum contains working relics of this glorious past, when Porthcurno was at the hub of a global network, the importance of which stretched well into the 20th century.

2. The Eden Project
In a huge abandoned clay pit, 160 feet deep, several transparent, geodesic 'biomes' have been constructed, each the size of an aircraft hangar, containing self sufficient eco-systems representing different zones, climates and plant species from around the globe. Water flows through from one end to the other, and ventilation is computer controlled. In an afternoon you can stroll from the tropical forests of south-east Asia to the dry temperate regions of South Africa and the Mediterranean.

3. Sennen Cove Surfing Lessons
Fancy learning to surf but not sure where to begin? Based at Sennen Cove, a Blue Flag Beach, the Smartsurf School's aim is to provide their students with a safe, personalised and correct introduction to the art of surfing. The small tutor to student ratio (never more than 1 to 7), allows a close eye to be kept on everyone, and the atmosphere is relaxed and friendly. Boards and wetsuits are for hire, but if you want to buy your own there's a surf shop near the beach.

4. The Lost Gardens of Heligan
Heligan has been the home of the Tremayne family for more than 400 years. At the end of the nineteenth century its thousand acres were at their zenith, but only a few years later bramble and ivy were already drawing a green veil over this "Sleeping Beauty." The Lost Gardens of Heligan are magical. They vary from semi-formal areas of lawns and planting to wild and rambling ferns, palms and magnolias. The estate also runs a farm, and facilities include a tea room, gift shop, toilets and parking.

5. Lands End
Lands End is the most south westerly tip of the British mainland. Exactly why this should prove so compelling is unclear, but hundreds of thousands of visitors each year make the journey, by car or tour bus. The scenery isnt as lush or stunning as many other coastal areas in Cornwall, in fact it can be quite a desolate spot, with jagged grey-brown rocks and the lonely Longships Lighthouse a mile and a half out to sea. There is still the feeling that you could fall off the edge of the world here.

6. Tate St Ives
The Tate St Ives is a good looking building that fits in well with the small fishing town of St Ives. It's collection focuses strongly on the work of the 'St Ives School' with paintings and sculptures by artists such as Ben Nicholson and Barbara Hepworth, who like many since were attracted by the unique transluscent quality of the light here. Throughout the year there is a regular programme of temporary and travelling exhibitions, as well as workshops and events. Facilities include a cafe and toilets.

7. St Michael's Mount
Crossing the bay to the sea bound castle on St Michaels Mount is an adventure in itself. Walk in the footsteps of pilgrims who have crossed the causeway through the ages, or at high tide, hop aboard a boat and motor into the harbour where trading ships once moored. St Michaels Mount is full of life, a place where ancient and modern sit side by side. A medieval castle that is still home to a modern family. A tranquil, beautiful location that has played its part in many furious battles. Visit and explore the myths, legends and living history of this magical place.

8. Lizard Point
On this dramatic and historic stretch of Cornish coast is 'The Lizard,' the most southerly point of mainland Britain and site of the Marconi Centre, where ground-breaking wireless experiments took place. With dramatic cliff-top walks, rare wildflowers and unique geology, The Lizard is also home to England's rarest breeding bird – the Cornish Chough. Visit nearby Kynance Bay, with it's white-sand, turquoise water and multi-coloured islands.

9. National Maritime Museum Cornwall
The National Maritime Museum in Cornwall has a fantastic variety of permanent displays that will interest and entertain all age groups. There's a collection of dinghys and other small boats, the Tidal Zone, Quarterdeck, Navigation Station and many more. In addition there are special activities, talks and workshops throughout the year. Why not book a seafood buffet and ferry cruise?

10. Polzeath
Polzeath has one of the best all round beaches in the whole of Cornwall. Its a fantastic area to stay winter or summer and an excellent location for surfing. Tucked just inside the Camel Estuary, the combination of Atlantic swells and the gradually shelving sandy beach produces long slow breaking waves that are ideal for improving your skills at every level from novice to advanced. Whether you want to walk the coastline, relax on the beach or explore the local area, Polzeath is one of those special Cornish locations that is simply unforgettable.