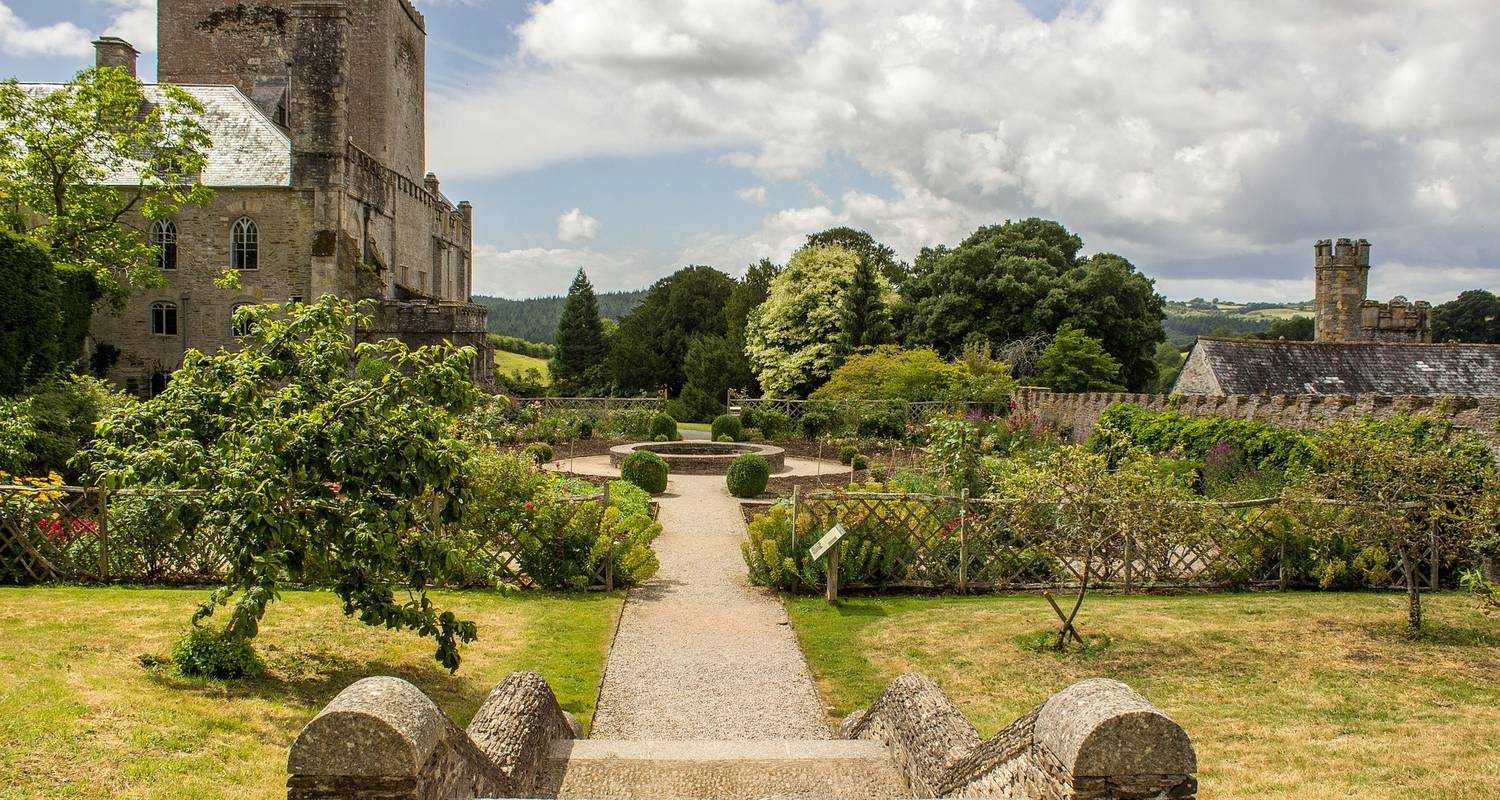 1. Castle Drogo
Castle Drogo is perched high above the Teign Gorge with dramatic views over Dartmoor. It was the 20th century home of self made millionaire Julius Drewe, and contains family keepsakes and modern technology such as gramophones, set alongside 17th century tapestries. The formal garden makes a striking contrast to Dartmoors ancient woodlands, which creep up to the borders of the grounds. There are family activities in the school holidays, and a shop, plant sales and cafe.

2. Lydford Gorge and the White Lady Waterfall
This lush oak-wooded steep-sided river gorge (the deepest in the South West), with its natural beauty, fascinating history and many legends, can be explored through a variety of exhilarating short or long walks. Around every corner the river Lyd plunges, tumbles, swirls and gently meanders as it travels through the gorge. Throughout the seasons there is an abundance of wildlife and plants to see, from woodland birds to wild garlic in the spring and fungi in the autumn.

3. Dartmoor Miniature Pony Centre
A magical Dartmoor day…See meet and touch the cutest ponies in Devon.Enjoy scenic walks, relax by the lakes, or burn off excess energy in the indoor or outdoor play areas. A selection of talks, demonstrations, pony rides and hands on activities take place everyday with something of interest for everyone. The traditional stable yard, covered barn and open paddocks are occupied by over 100 animalsproviding easy access to meeting them even in poor weather. With its unique friendly atmosphere the Miniature Pony Centre has the recipe for the perfect day out on Dartmoor, which everyone will enjoy. Easy to find, just 1 hour travelling time from Exeter.

4. South Devon Railway
Step back in time on one of the magnificent steam engines of the South Devon Railway, with mainline rail connections at both ends! Visitors can take the return steam train trip from Buckfastleigh and benefit from a Vintage Bus Service which is available to transport you to and from Buckfast Abbey and Buckfastleigh Town Centre. A combined ticket is available, covering entry to Buckfast Butterfly Farm and Otter Sanctuary as well as the famous Buckfast Abbey.

5. Buckland Abbey
Buckland Abbey was home of the Elizabethan seafarer Sir Francis Drake, set in a secluded location in beautiful Tavy Valley. The 700-year-old buildings include the fine 16th-century Great Hall, rumoured to be haunted by Drake and accompanying 'hell hounds!' Explore the history of the buildings and grounds through interactive displays and hands on activities, or take a walk along one of the marked trails along the river Tavy. Facilities include a shop/garden shop, and cafe.

6. The Museum of Dartmoor Life
The Museum of Dartmoor Life tells the stories of people who lived on and around Dartmoor. The museum was built as a granary in 1811, and the picturesque cobbled courtyard features granite rails on which the wheels of carts would once have run. In addition to three floors of exhibits, the building includes a state-of-the-art Gallery where exhibitions and other events are staged. At the side of the building is a large working waterwheel. Facilities include a shop and tearoom.

7. Canonteign Falls and Country Park
Canonteign Falls is the highest waterfall in England and is situated in the beautiful Teign Valley. Steeped in a fascinating silver mining history, the Falls were created in 1890 when the 3rd Lady Exmouth, to keep the redundant miners in Devon employed, used them to divert the water over the high outcrop of rocks thus starting the landscaping of the estate. Canonteign Falls offers a spectacular day out for all the family, with nature and wildlife trails, walks through woodland, wetlands, lakes and parkland and extensive play areas for children.

8. Buckfast Abbey
Buckfast Abbey enjoys a tranquil setting beside the swift flowing River Dart, and is still home to a Roman Catholic communityn of Benedictine Monks. The abbey is open to visitors however, and includes a gift shop selling monastic produce, a book shop and a restaurant which serves cream teas and delicious lunches! You can take an extensive Visitors Tour, which takes in the various chapels and churches, bee hives, winemaking area, lavender gardens and a medieval monk exhibition.

9. Bellever Tor Walk
Situated in the centre of Dartmoor National Park, the area around Bellever Tor is easily accessible and is a popular site for walkers. From the adjoining Forestry Commission plantation, there is a pleasant and relatively gentle walk up the moorland slopes towards the summit of Bellever Tor. In addition to its geological significance, the site offers excellent views over South Dartmoor. The area also exhibits many remains of prehistoric settlement, including tombs and stone rows and circles.

10. Church House
Church House is an attractive two-storey granite building with a thatched roof dating from 1540. It was originally a brewery, then a school and now fulfils the dual role of Heritage Visitor Centre and a Bookable Function Hall. Traditional Devon Cream Teas are available on visitor days. A special feature is the roof structure, which preserves cruck trusses and rare smoke-blackened thatch. The adjacent Sexton's Cottage is a National Trust shop and Dartmoor Information Point.